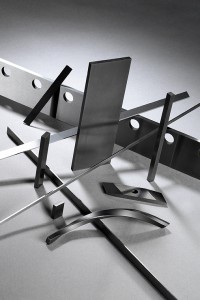 Hardmetal Technology is proud to be the UK distributor for Sandvik Hard Materials of their high-quality sintered carbide strip.
At Hardtech we hold comprehensive stocks in the UK and guarantee fast delivery of their H10F & DK20 grades in standard 310mm lengths with widths up to 40mm and thicknesses up to 6mm
Through our relationships with other leading European and US manufacturers of sintered carbide strip and other products we are able to provide highly competitive prices for a wide range of other sizes, grades and special products.
In addition our in-house facilities allow us to cut, shape and grind parts to finished dimensions and meet other specific customer requirements.
Strip Physical Properties
Grade

Hardness

Transverse Rupture Strength

Compressive Strength

Density

Hv30
HRa
N/mm²
psi
N/mm²
psi
g/cm³
H10F
1600
92.1
3750
544 000
6300
911 000
14.50
DK20
1500
91.4
2300
334 000
5300
882 000
14.70