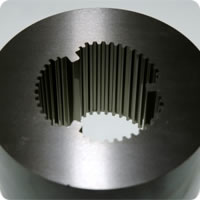 In accordance with Hardmetal Technology's policy of using the best available production technology, we have invested heavily with global EDM technology leader, GF Agie Charmilles enabling us to machine with exceptional dimensional accuracy a wide range of material including Tungsten Carbide, PCD, Ceramics, Heavy Metals, Steels, Super Alloys, HVOF and Plasma Coatings.
Our latest versatile Wire Eroders, with cutting speed of up to 400 mm2/min, are capable of finishing to 0.2µm Ra using a range of wire sizes including 0.1mm with ability to produce corner radii down to 0.06mm. Charmilles advanced clean cut generator utilising the latest coated wires ensures fast and accurate profiles with industry leading surface finish and integrity while eliminating the recast layer problems.
Our EDM DRILL while primarily used for wire start holes and able to produce holes from 0.3mm to 3.0mm diameter in any conductive material, has many other uses including producing coolant feed holes or those not possible with conventional techniques.
Equipped with the latest innovations in EDM machining technology our Roboform Spark Eroder, when combined with our milling, turning and grinding capability, enables us to produce complex electrodes