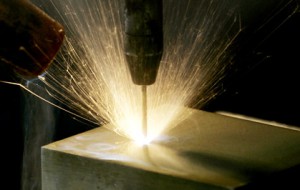 Wire Erosion Machining or Wire Electrical Discharge Machining (the EDM process as we know it today) started in 1770 with the observations of Joseph Preistly. He noticed that electrical discharges had removed material from electrodes used in his experiments.
Later on in the 1940's Soviet researchers developed the electro discharge machining process that formed the foundation for modern day wire EDM machines and EDM machining.
Since then electric discharge machining (EDM) has divided into two main processes – Wire Erosion and Spark Erosion – which are sometimes colloquially also referred to as spark machining, spark eroding, burning, die sinking, wire burning, wire EDM, wire machining, wire eroding, EDM machining and a host of other names!
Wire and spark erosion, operating with materials that are electrically conductive and especially with hard metals and metals that are difficult to machine using traditional methods, are extremely precise ways of cutting, resizing and reshaping objects. What makes the processes different is that they are non-contact that it puts far less stress on the objects yet with great accuracy.
Using the latest Agie Charmilles wire EDM machines Hardmetal Technology has a proven track record in wire and spark erosion and the provision of wire EDM services, spark erosion services and EDM fast hole drilling services.